The Beginning of the Richardson's Story on Oulton Broad…
Stephen Pullinger reports.
At the age of 91 his eyes still light up and his face creases into a smile when he starts talking about his life-long passion.
Robert Richardson is a true pioneer of the Norfolk Broads boating holiday, but he is just as excited talking about his company's latest cutting-edge designs – whether it be the Broadsman, Broadway or new-for-this-season Commodore – as he is reflecting on the 
first motor cruiser he ever bought in 1944.
Eight decades on from buying that boat, MacNab, for the princely sum of £175, he remains fully involved in the family business, coming into his office every day, including weekends.
While his sons Clive and Paul today oversee boat building and boat sales and Greg Munford has been brought in as chief executive, everything around them at their Stalham Staithe marina is testament to the hard work and vision of Robert Richardson and his father Robert senior.
For it was his father, a trained marine engineer who had worked for many years at Chambers shipyard on Lake Lothing in Lowestoft, who started the business by buying Old Mill House Boatyard on Commodore Road, Oulton Broad in 1944.
Robert recalled how he bought four rowing boats for £36 in the early part of the war from a Mr Dunnett – "before I was called up to the RAF" – and his father let them for him.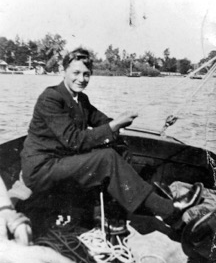 "Back then, MacNab was marketed as a six-berth cruiser but it was only the size of a two-berth boat by today's standards," says Robert.
"In 1947, it could be hired for £31 in high season or £27 in low season; there was a gas cooker and a straight-through toilet but definitely no shower. However, you could hire a portable radio for 25 shillings (£1.25) a week."
He recalls that the immediate post-war era was a profitable one for the burgeoning hire boat industry as people leaving the armed forces had their demobilisation money but very little to spend it on 
other than holidays.
By 1957, the hire fleet was outgrowing Richardson's Oulton Broad sites, which by then had extended to Parkers Yard, later to become Hamptons, two boat dykes in Carlton Ham and a boat building yard on Lake Loathing as well as Old Mill House Boatyard.
Robert Richardson, who had taken over running the business from his father, started looking for larger premises on the northern Broads, which even then were a busy hub for boating holidays.
"My mother Dora saw an advert in the Lowestoft Journal for the auction of Brightside Guest House and a dyke in Stalham," he says.
Buying it for £7,500 heralded the beginning of the modern era for Richardson's, an era with Stalham very much at the heart of it.
Son Paul Richardson says: "Until then the River Ant was very quiet. There was a small boatyard at Sutton Staithe and a yacht station and boatyard in Stalham, but it was very much out of the way for holiday boats."
His father recalls how the move immediately boosted trade for their hire fleet, which by that stage had reached 33 boats, mostly built in their own yard.
He says: "Our first year in Stalham, 1958, was a bad one for the Broads generally but we enjoyed our best ever season because of the difference in volume of trade between the northern and southern Broads."
Once sheds had been put up at Stalham, a fresh boat building programme began and classes of boats that became Broads legends – Pacemakers, Sunways, Broadsventures – became holiday favourites.
Some of the 1960s fleet remain today in private hands and Clive Richardson fondly retains a restored Broads Venture for private use. "I have put an electric toilet on board, but there's none of the other modern 'luxuries' boats have today," he says.
Over the next 15 years Robert bought extra plots of marshland surrounding the original site to create the largest boatyard on the whole of the Norfolk and Suffolk Broads.
Although motor cruisers had first started appearing on the Broads in the 1930s it was not until the 1960s when they became greater in number than sailing cruisers.
It was also the era when fibreglass replaced wood in the construction of cruisers.
In 1969, a new company Aquafibre Ltd was set up to build hulls for Broads hire boat firms with Robert owning a 30pc share in it; eventually he set up his own building operation at the Stalham yard under the name of Horizon Craft.
The 1970s era, captured by the iconic Hoseasons advert set to the tune of Messing About on the Water, can be seen as the heyday for the Broads boating holiday.
Photo: Paul, Clive and Robert Richardson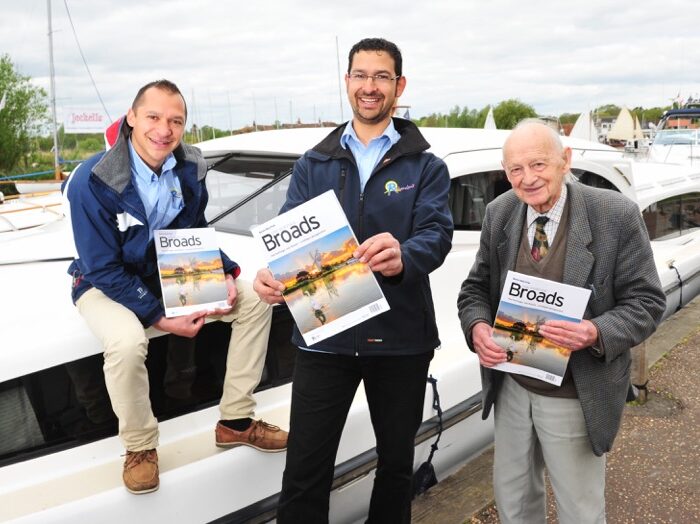 Paul says: "By that time there were 2,000 boats on the Broads and we had 10 to 15pc of them. There were probably as many as 50 hire boat yards and a far bigger proportion on the southern rivers. There are none at all today at Oulton Broad."
The Richardson's story is one that was interrupted in 1974 when Robert Richardson sold the Stalham marina to Rank. "I was tempted by a big offer," he admits.
And the business logic came from the fact that 230 of their boats were still wooden.
"The volume of repairs was quite a headache, the maintenance of wooden boats was quite horrific," he says.
He set up a new boat hire operation at Acle bridge – still run by Richardson's as Horizon Craft – and could not resist the possibility of buying back the Stalham marina in 1984.
Clive Richardson says: "The maintenance of the fleet had slipped and we could only let 50 boats in our first season back."
He proudly recalls that, by the late 1980s, Richardson's had 700 hire boats with yards in Thorpe, Horning and Acle as well as Stalham.
"In those days we had 150 boats on the River Thames," he says.
It is in the last six years that Richardson's fortunes have surged once more under the direction of Greg Munford, who explains: "In 2008, the business made a loss of £1.6m, but we've turned that around to an operating profit of more than £1m."
The turnover of Richardson's boating division now stands at £5m, while its holiday parks, villages and family entertainment centres turn over an even more healthy £10m.
Greg says success has been achieved by focusing on what they do well and selling off inns and restaurants acquired in the 1990s. Having not built any new boats of their own design since the early 1980s, Richardson's took the bold decision to design and build a new generation of Broads cruisers in 2008 and have since added 18 to the fleet.
"Until then most hire boats on the Broads had been built using moulds from the same company. To break
the mould we had to build our own," says Greg.
The company's commitment to building new boats has seen the yard's boat building staff increase from four in
As well as a new fleet of £250,000 Broadsman cruisers – coming with such mod cons as three ensuite bedrooms, satellite television, electric toilets, LED lighting and electric canopies – their other striking new designs include the Carousel, Broadlander and the 38ft, single-level Broadway.
"Our new boats are the most attractive on the Broads and they are all 95pc booked," says Greg.
Boatbuilder Nigel Smith, 64, who started as an apprentice at Richardson's 49 years ago, working on wooden boats, is proud to have played his own part in the evolution of the boating holiday – from a very basic to a luxury experience.
He says: "When I first started we had ice boxes on board instead of fridges. Holidaymakers would get a new one whenever they moored at a different yard.
"Every second year, we would update the boats with something new, such as toilets, fridges and ventilation heating."
Photo: Robert Richardson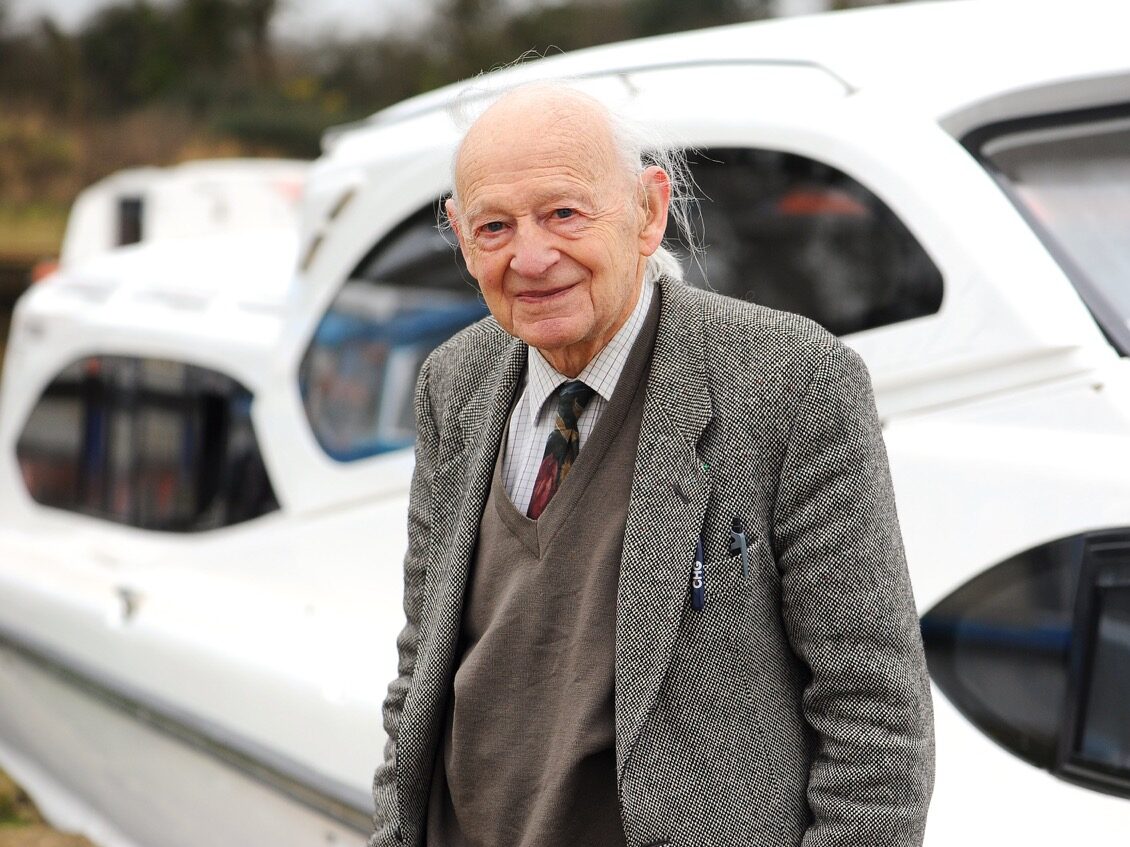 But he still marvels at the luxury of Richardson's most recent designs, such as the Broadway, which "have every conceivable concession to the modern age, from microwaves and electric everything to wi-fi and even solar panels".
Robert Richardson emphasises the fact that the industry is far less profitable than the post-war years.
"We originally only had two hire rates (A and B), but still managed to let most of the boats throughout the
"Over time, to let boats outside the peak period we have had to introduce cheaper C, D and E rates as well."
However, reassuringly, he firmly believes there will always be a hire fleet on the Broads.
"If we provide a quality product and a quality experience, people will keep on coming," he says.