Before You Come Boating
Here's some useful information for once your Richardson's Boating Holiday adventure is booked!
General Marina Information
Richardson's Stalham
The Staithe
Stalham
Norfolk
NR12 9BX
Tel: 01692 582 277
What are the pick up and return times?
On rare occasions, the above stated time may vary due to circumstances beyond our control.
Your times will be stated on your booking confirmation. If you are going to be late arriving please let us know. Your cruiser will be left open but you will not be able to leave the boatyard until you have checked in the following day and had your trial run. Offices strictly close at 5pm.
On arrival you will be fitted with buoyancy aids and have a full trial run. This will show you how to drive the boat and tell you all about the controls, what's on board and how to keep safe on the water. If you would like to see more about this and watch a trial run then click here.
What is on board and what should I bring?
All of our boats have:
TV*
CD player
DVD player
Cigarette lighter for a 12v mobile phone charger
Toilet(s)
Shower(s)
Bedding
Fridge
Cooker
Hot & cold water
Equipped galley
Buoyancy aids
Norfolk Broads map
*TV reception cannot be guaranteed and no remote controls are provided.
Depending on which boat you have booked you may also have the following  (you can find this out by looking on our website).
240v power system (240v allows you to use some household appliances to a maximum of 1000w*. Hair driers free of charge provided on request)
Microwave
*High powered hair driers / straighteners will not be compatible. None of the boats operated will provide electrical power to enable a nebuliser or any other electrical appliance needed for medical reasons or any other purpose what-so-ever to be used on board. 
So what should you bring?
Booking paperwork
Towels (these are provided on Platinum boats)
Rubber soled shoes
Torch
First aid items
Clothing – make sure you pack some warm waterproof clothes but also some going out outfits for evenings out at restaurants!
Food – remember that the fridge on a boat is smaller than the one you have at home. Also, there is a Tesco 5 minutes from our Stalham and Moonfleet bases and a Budgens 5 minutes from Acle for any supplies you may need.
If you are bringing your dog remember their lead, toys, bedding and food and water bowls as well as their food supplies.
If you are bringing young children you can hire highchairs and travel cots (subject to availability and charges).
Cards and board games
DVDs
In-car phone / iPad etc. chargers
Camera
Toiletries
The maximum speed you can travel is between 3-6mph. You can only travel during daylight so the best rule of thumb is to say you could travel about 30 miles in ten hours.
When planning your journey be mindful of bridges and Breydon Water. Check any bridge restrictions that apply to your boat under the boat description online. Wroxham, Potter Heigham, Beccles and Wayford all have low bridges through which some boats will not pass at any time. The pilots at Potter Heigh and Wroxham are the final judges of whether your boat may pass under these bridges (there is a charge for the pilot service). Water and tidal conditions may make bridges impassible to all cruisers at certain times. This will not stop you enjoying these places as you can more up close-by and explore by foot.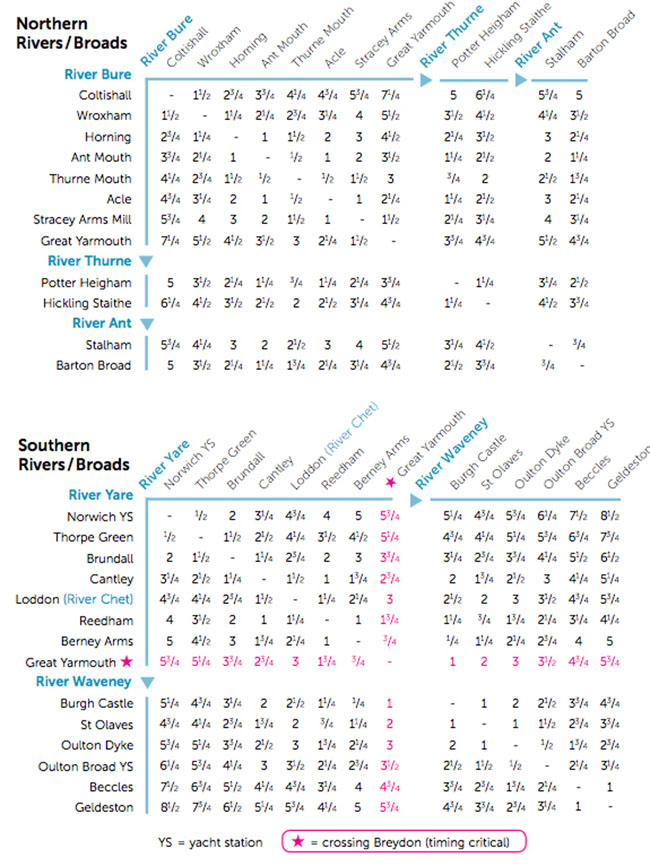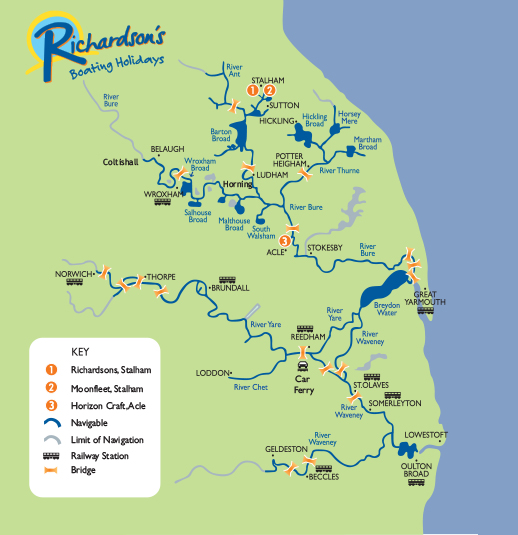 Where you go also depends on what you want to see. You can view some suggested route ideas and town guides here.
Also, why not download our free boating guides. We have these available for Kids, Twenty-something's and forty-something's. Packed with useful information to help you make the most of your boating holiday.
If you have more queries you may find the answer in our FAQs section. If not, please feel free to contact one of our experienced Bookings Team who will be happy to assist you.